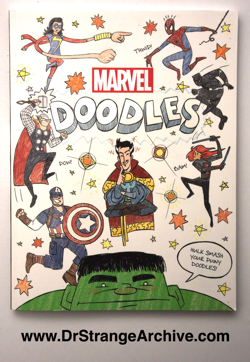 Title: Marvel Doodles
Author: Kurt Hartman and Tomas Palacios
Type: Soft Cover
Date: 2016
Pages: 128
Publisher: Marvel Press, Disney Book Group
Description: This is a drawing/doodle book featuring numerous Marvel characters. It is done in a whimsical way where each page asks you to draw various things. Dr. Strange appears on the cover of the book and on pages 4, 85, 98, 99 and 112. It is illustrated by Tomas Montalvo-Lagos.