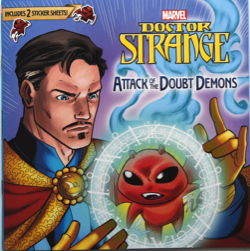 Title: Doctor Strange Attack of the Doubt Demons
Author: Liz Marsham
Type: Paperback Kids
Date: 2016
Pages: 24
Publisher: Marvel Press
Description: This is a great short children story that also contains two pages of stickers which is a great addition to a children's book. The story is about demons who attach themselves to children who are doubting themselves at a school playground. It is illustrated by Ron Lim and Chris Sotomayor.