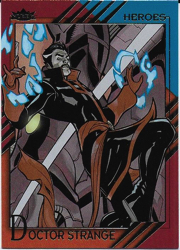 Number: 16
Name: Doctor Strange
2nd Name: None
Type: Trading Card
Series: 2015 Marvel Fleer Retro
Date: 2015
Artist: Unk
Manufacturer: Upper Deck Fleer
Other Characters: None
Description: This is a Dr. Strange Heroes card with a picture of the Doctor casting a spell on the front and his stats on the back. There are metallic areas on the front that appear dark in the scan.