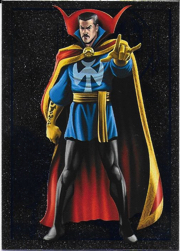 Number: 53 Sapphire
Name: Dr. Strange
2nd Name: House of M
Type: Trading Card
Series: Marvel Universe
Date: 2014
Artist: Unk
Manufacturer: Rittenhouse
Other Characters: None
Description: This is the sapphire version of this card with the blue border on the back. Sapphire cards were a one in eight packs.