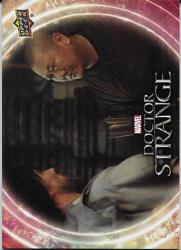 Number: 34
Name: Doctor Strange
2nd Name: None
Type: Trading Card
Series: Marvel Doctor Strange
Date: 2016
Artist: None
Manufacturer: Upper Deck
Other Characters: Wong
Description: This is base card #34. There is an edition of 150 of each base card. This is card 106/150. The card features images from the movie with Dr. Strange and Wong with a quote from Wong in the movie the library.