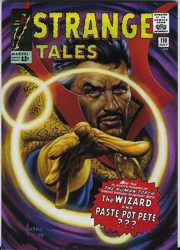 Number: 40 What If
Name: Doctor Strange
2nd Name: Strange Tales
Type: Trading Card
Series: 2015 Marvel Masterpieces
Date: 2015
Artist: Joe Jusko
Manufacturer: Sky Box
Other Characters: Human Torch
Description: This is the What If card for this series and is number 922/999. It features a unique Strange Tales comic book cover on the front and Doctor Strange info on back. This is a thick trading card.