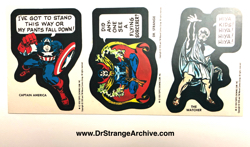 Number: None
Name: Dr. Strange
2nd Name: None
Type: Sticker
Series: Topps Comic Book Heroes Stickers
Date: 1976
Artist: Unk
Manufacturer: Topps Chewing Gun, Inc.
Other Characters: Captain America, The Watcher
Description: This is an unscored uncut proof sheet of three stickers in the 1976 Marvel Superheroes chewing gun series. This three sticker card was purchased directly from the Topps Vault and has a certificate of authenticity.