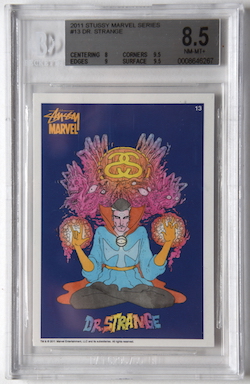 Number: 13
Name: Dr. Strange
2nd Name: None
Type: Trading Card
Series: Stussy Marvel
Date: 2011
Artist: Noah Butkus
Manufacturer: Marvel Entertainment, LLC
Other Characters: None
Description: This is a Dr. Strange trading card from a series collaboration between Stussy and Marvel. The back of the card outlines information on the artist. This card is graded 8.5 by Beckett.