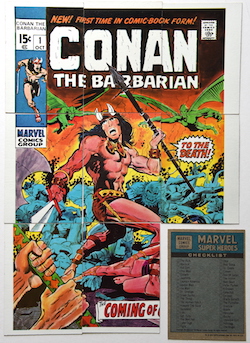 Number: None
Name: Checklist
2nd Name: None
Type: Checklist Card
Series: Topps Comic Book Heroes Stickers
Date: 1976
Artist: Unk
Manufacturer: Topps Chewing Gum Inc
Other Characters: Conan
Description: This is the checklist card for this series of chewing gum sticker cards. There are nine checklist cards with the same checklist on the back. On the front is the cover of Conan The Barbarian number 1 cut into nine pieces for each of the nine cards.