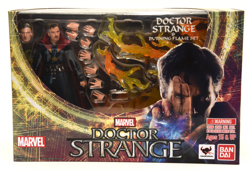 Name: Doctor Strange & Burning Flame Set
Series: None
Artist: Unk
Date: 2017
Size: 6"
Company: S.H.Figuarts
Description: This is a great action figure set by S.H.Figuarts and Tamashii Nations distributed by Blue Fin Corporation. It features a figure movie version of Doctor Strange that stands just under 6" tall. It comes with four extra left hands and four extra right hands that are in various poses. The figure is posable and comes with four additional spell affect attachments. It also comes with a very cool seven piece set of burning flames. There is a version of this figure that does not come with the burning flames that wasn't produced for export.