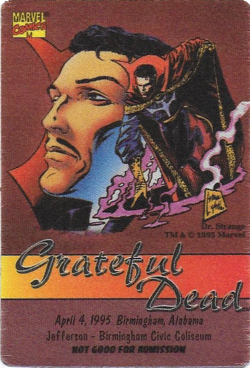 Item: Grateful Dead Back Stage Pass 4/4/95
Date: 1995
Type: Concert
Size: 2 1/5" x 3 5/8"
Company: Crest_Craft
Description: Crest-Craft created a lot of Grateful Dead backstage passes from 1983 until 1995. In 1995 they created a series of backstage passes with Marvel characters on the front. This backstage pass was created for the April 4th, 1995 concert at the Jefferson - Birmingham Civic Coliseum in Birmingham, Alabama. 750 of these passes were produced. Jack Johnson, the President of Crest_Craft, maintains a personal collection with the passes, proofs, etc. All passes have a MacTac PS adhesive liner on the back with Crest-Craft information stamped on it.