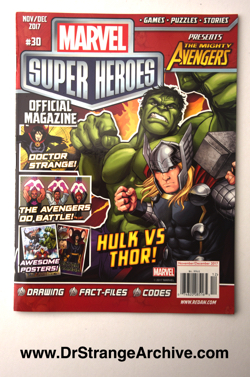 Item: Marvel Super Heroes Magazine Volume 6 #30
Date: 2017
Type: Magazine
Size: 8" x 10 7/8"
Company: Redan Publishing Inc.
Description: Dr. Strange appears on page 22,23, 30, 31, 32, 33 as well as a pull out small poster in the middle of this issue of Marvel Super Heroes Magazine. He helps out the Avengers in the main story of the magazine and has a few activities for you including drawing and coloring.