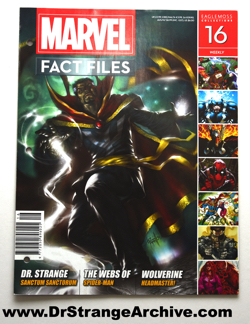 Item: Marvel Fact Files 16
Date: 2013
Type: Magazine
Size: 8 5/8 x 11 1/8
Company: Eaglemoss Publications Ltd.
Description: This is issue 16 of Eaglemoss Collections magazine that heavily features Dr. Strange along with X-men, Fantastic Four, Spiderman along with other articles. One of the foldout pages has a cutaway Sanctum Sanctorum diagram.