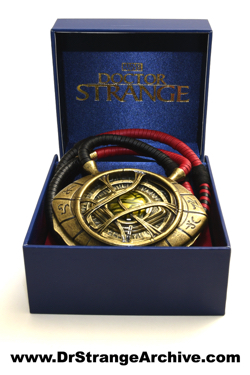 Item: Eye of Agamotto Necklace
Date: 2018
Type: Jewelry
Size: 4 3/4 x 4 3/4
Company: SalesOne, LLC
Description: This is the most realistic version of the 2016 movie Eye of Agamotto. The only downside is it doesn't light up and the bands in the front are not silver. Most of these necklaces cheat on the back. This one is pretty authentic. It comes in a great clam shell box with gold eye on top.