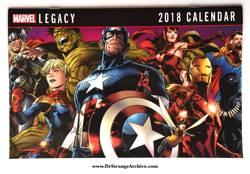 Item: 2018 Marvel Legacy Calendar
Date: 2018
Type: Calendar
Size: 10 1/4" x 6 1/2"
Company: Marvel
Description: This is technically a one shot comic, but its meant to be a Marvel Legacy Calendar for 2018. The cover features the main Marvel Legacy art with Dr. Strange on the far right side. He is also featured in the month of February.