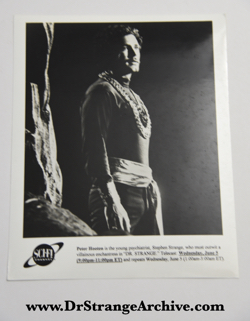 Item: Peter Hooten Production Photo
Date: Unk
Type: Picture
Size: 8" x 9"
Company: Sci-Fi Channel
Description: This is a production style photo from the Dr. Strange TV pilot featuring Peter Hooten. It advertises a telecast for Wednesday June 5th 9:00pm - 11:00pm ET and repeats Wednesday June 5th 1:00am - 3:00am ET of an unknown year. There is a Sci-Fi channel logo in the lower left.