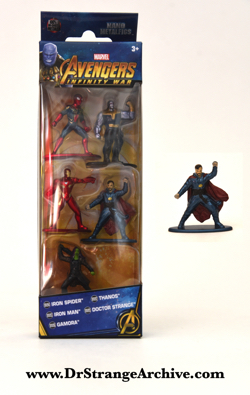 Item: Avengers Nano Metalfigs
Date: 2018
Type: Figure
Size: 2 3/4" x 8 3/4"
Company: Jada Toys, Inc.
Description: This is a box set of Avengers Infinity war Nano Metalfigs. There are five figures in this box: Iron Spider, Iron Man, Gamora, Thanos and Doctor Strange. There are two numbers on the bottom of the Dr. Strange figure: No.99907 and 1818030G13. The figure is metal and approximately 1 3/4" tall.