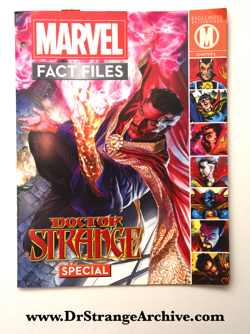 Item: Marvel Fact Files Doctor Strange Special
Date: 2016
Type: Magazine
Size: 8 5/8" x 11 1/4"
Company: Eaglemoss LTD
Description: This is the magazine that came with a statue statue for the 2016 Eaglemoss Collections Chapter 5 Doctor Strange Special. The magazine has all sorts of misc Dr. Strange facts. The statue that came with the magazine is in the Statues Database in the Archive.