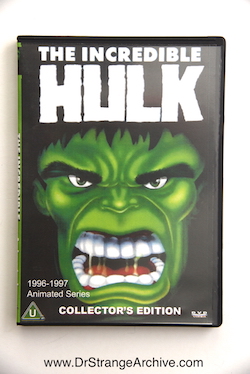 Item: The Incredible Hulk Animated 1996-1997 Series
Date: Unk
Type: DVD
Size: 5 3/8" x 7.5"
Company: Capicatous Industries
Description: This is the collectors edition of the 1996-1997 The Incredible Hulk animated TV series. Doctor Strange plays a significant role in the episode Mind Over Anti-Matter. There is an animation production cell from from this episode in the Archive.