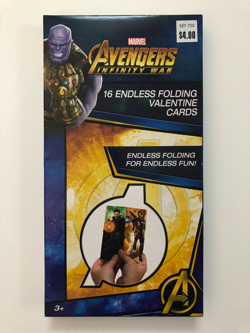 Item: Avengers Infinity War Endless Folding Valentine Cards
Date: 2019
Type: Valentine's Card
Size: 5.5" x 7/8"
Company: Paper Magic Group, Inc.
Description: This is a set of 16 identical valentine's day cards that fold. Each time you fold the card another character appears including the MCU version of Dr. Strange. The cards themselves measure 3.5" x 4.5"