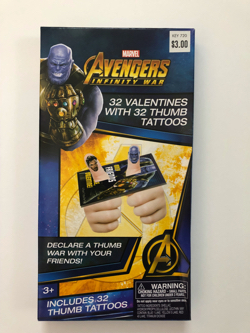 Item: Avenger Infinity War Valentines
Date: 2019
Type: Valentine's Card
Size: 5.5" x 10.5"
Company: Paper Magic Group, LLC.
Description: This is a box of 32 Valentine's Day Cards with 32 thumb tattoos. There are seven different cards that you stick your thumbs through and stick the heads of multiple Marvel characters on your thumb. Dr. Strange is one of the stickers. Yes, it's pretty weird.