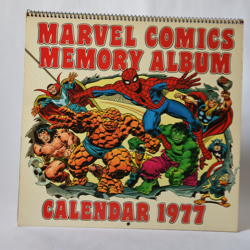 Item: Marvel Comics Memory Album Calendar 1977
Date: 1977
Type: Calendar
Size: 11 x 11 1/4
Company: Simon and Schustor
Description: This is the 1977 Marvel calendar. It features Doctor Strange on the cover along with several other characters. The Doctor is also features on the July page. The July page features the Doctor and Nightmare from Strange Tales #110. Various dates have Dr. Strange related information.