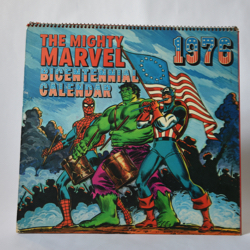 Item: The Mighty Marvel Bicentennial Calendar 1976
Date: 1976
Type: Calendar
Size: 11 x 11 1/4
Company: Simon and Schuster
Description: This is the Marvel 1976 calendar. Dr. Strange is featured in a picture for September along with several other characters. He is also pictured on the back of the calendar along with a bunch of other characters.