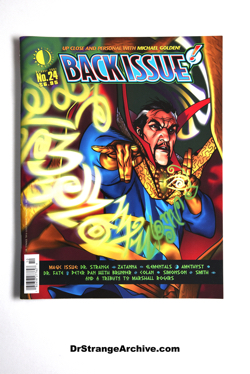 Item: Back Issue Magazine No. 24
Date: 2007
Type: Magazine
Size: 8 3/8 x 10 7/8
Company: TwoMorrows Publishing
Description: This issue of Back Issue magazine features a Michael Golden Dr. Strange on the cover. A print of this cover art is also in the Art/Posters section of the Archive. Mr. Golden is also featured in an article inside. Dr. Strange also appears throughout the whole magazine. This is a must have issue for any Dr. Strange Collector.