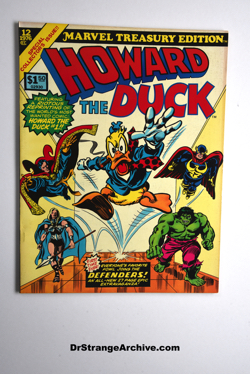 Item: Marvel Treasuring Edition Howard the Duck
Date: 1976
Type: Comic Magazine
Size: 10 1/8 x 13 1/4
Company: Marvel Comics Group
Description: This is the vol. 1 no. 12 Special Collector's Issue Marvel Treasury Edition for Howard the Duck featuring the Defenders. This is basically a giant comic book the size of a large magazine. Its always an interesting story anytime Howard the Duck and Doctor Strange teams up.