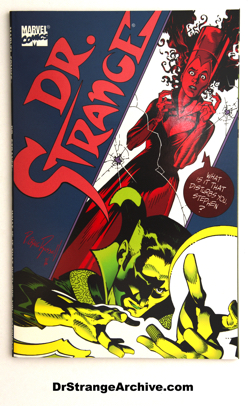 Item: What Is It That Disturbs You Stephen?
Date: 1997
Type: Graphic Novel
Size: 6 5/8" x 10 18"
Company: Marvel Comics
Description: This graphic novel was conceptualized in 1973 as a full story, but ended up being first published as a 35 page annual. The story was revisited years later and rewritten/re-drew into its current 48 page graphic novel. The story centers on Electra, the ruler of the dimension Ditkopolis (get it?). When her father King Roark died, he divided his power amongst his two daughters, Electra and Celeste. Electra wanted all the power for herself, but the king's spell ensured any harm she did to Celeste would be visited back upon her as well. So she kidnapped Wong in an attempt to get Doctor Strange to break the spell so she could seize power and rule Ditkopolis solo.