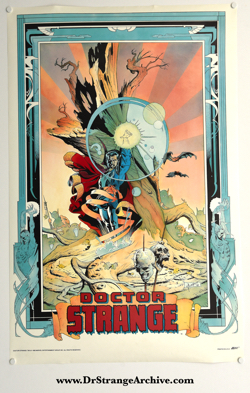 Title: Doctor Strange
Artist: Sandy Plunkett
Date: 1992
Type: Poster
Size: 22x34
Other Characters: None
Manufacturer: Marvel Press
Description: This is one of my favorite posters. It depicts Doctor Strange casting a spell with skulls on pikes at his feet, a large tree behind him, bats flying in the air and bat like creatures around the tree. It has a beautiful artistic boarder. I love the color palette he uses in a lot of his art. It isn't the bright colors in most Marvel art. They are more subdued colors. The post was made in 1992, but the art is from 1989.