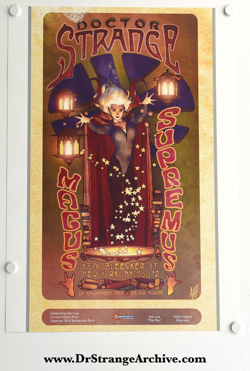 Title: Celebrating Stan Lee
Artist: Adam Hughes
Date: 2014
Type: Print
Size: 11 5/8 x 16 1/2
Other Characters: Clea
Manufacturer: Supanova
Description: This is a great Doctor Strange print. Clea takes center stage with the Doctor faintly seen in the window. It formatted like an palm reader advertisement. This print was used when Stan Lee was hitting the convention circuit as stock for him to sign. It is also labeled as a limited edition print, but there is no edition number, I have have seen stacks of these at the conventions.