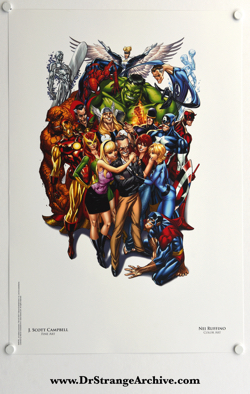 Title: None
Artist: J. Scott Cambell, Nei Ruffino
Date: 2011
Type: Print
Size: 12 15/16 x 19
Other Characters: Many
Manufacturer: Unk
Description: This is a print with Stan Lee in the center surrounded by many Marvel characters. The Doctor is left of center. The copywriter date has a typo. It says 20011. Nei does the coloring. This was another popular print on the Stan Lee convention circuit.