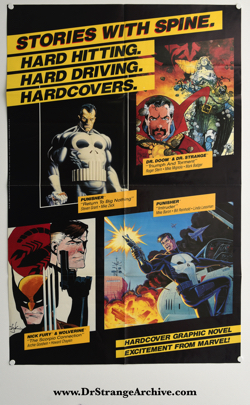 Title: Stories With Spine
Artist: Multiple
Date: 1989
Type: Poster (Folded)
Size: 22" x 34"
Other Characters: Punisher, Dr. Doom, Wolverine, Nick Fury
Manufacturer: Marvel Entertainment Group, Inc.
Description: This is an in-store advertisement poster for hardcover Marvel graphic novels. Dr. Strange appears in the top right with an advertisement for Triumph and Torment.