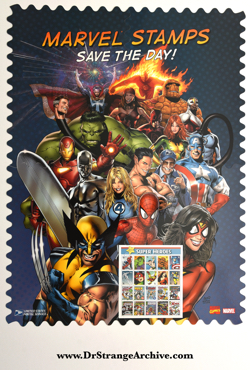 Title: Marvel Save the Day Stamps
Artist: Land Leisten
Date: 2007
Type: Promotional Poster
Size: 18" x 24"
Other Characters: Many
Manufacturer: United States Postal Service
Description: This is a cardboard poster display for the 2007 Marvel Save the Day Stamps. It is cut into four pieces that are in the shape of giant stamps. The front image shows a group of Marvel Characters. Doctor Strange is near the top center. The reverse of each piece features an large image of a stamp with a character on it. Unfortunately Dr. Strange did not get his own stamp. The reference number on this piece is: MPSP07-FLZ-PS-310-1 Poster 1.