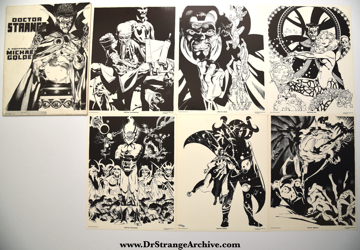 Title: Doctor Strange a Portfolio by Michael Golden
Artist: Michael Golden
Date: 1983
Type: Portfolio Prints
Size: 11" x 14"
Other Characters: Doctor Strange, Baron Mordo, Clea, The Ancient One, Eternity, Nightmare, Dormammu
Manufacturer: S.Q. Productions Inc.
Description: This is a Marvel Super Hero Portfolio featuring Doctor Strange and Michael Golden. Roger Stern is given research credit on the folder. This portfolio features six 11x14 prints: Plate One - The Ancient One, Plate Two - Mordo, Plate Three - Clea, Plate Four - Dormmammu, Plate Five - Eternity, Plate Size - Nightmare. All are black ink on white/creme heavy paper stock (cardboard).