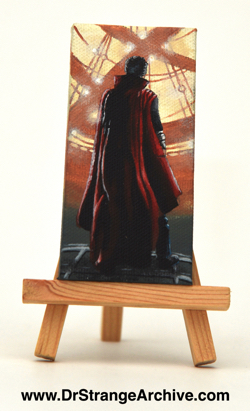 Title: Doctor Strange
Artist: Bill Madia
Date: 2017
Type: Original Artwork
Size: 1 7/8" x 3 7/8"
Other Characters: None
Manufacturer: Bill Madia
Description: This is a piece of original artwork on wood framed canvas featuring Benedict Cumberbatch 2016 movie version of Dr. Strange. Don't let the picture fool you. The canvas is just under 2" x 4". Dr. Strange is shown from the back facing the Vishanti window. Bill specializes in mini paintings featuring scenes from a wide variety of movies.