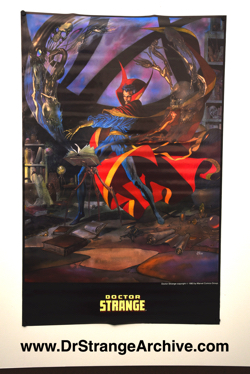 Title: Doctor Strange
Artist: Kevin Nowlan
Date: 1983
Type: Poster
Size: 22" x 34"
Other Characters: None
Manufacturer: Marvel Comics
Description: This is probably my favorite Dr. Strange poster. It features the Doctor in vibrant red, gold and blue standing in front of a spell book with its pages flipping in the wind as infernal creatures flying about in the Sanctum in front of the Vishanti window. The sticker on the plastic wrap for the poster says #4 Dr. Strange.