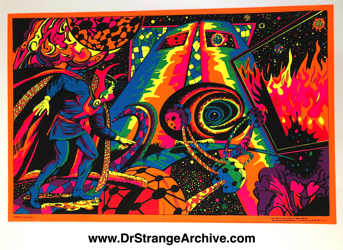 Title: #4008 Dr. Strange - The Search
Artist: Dan Atkins
Date: 1971
Type: Black Light Poster
Size: 33" x 21.5"
Other Characters: None
Manufacturer: Third Eye, Inc.
Description: This is one of three Dr. Strange black light posters created back in 1971 by Third Eye, Inc. Each one of these posters was also made into a greeting card and a puzzle in the same year. The poster was later re-produced as a non-black light post with smaller dimensions. There are a total of 24 different posters in the Marvel series.