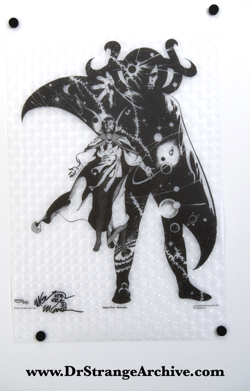 Title: Plate Five - Eternity
Artist: Michael Golden
Date: 2018
Type: Print
Size: 11" x 17"
Other Characters: Eternity
Manufacturer: None
Description: This print originally comes from the Michael Golden portfolio. This version was printed on a weird 3D bubble plastic sheet and was limited to 50 copies for the 2018 Indiana Comic Con. It came with a certificate of authenticity number ing it 2/50. I had it personally signed at the show.