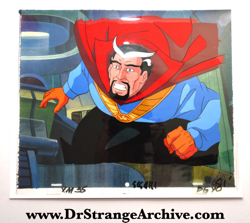 Title: None
Artist: Unk
Date: 1996
Type: Animation Cell
Size: 13" x 11"
Other Characters: None
Manufacturer: Unk
Description: This is a animation cell from the 1996 Incredible Hulk animated TV show featuring Dr. Strange taking up most of the cell and includes the background. The background has XM35 and BG40 written on the bottom edge and the cell has S1 written on it as well as something I cannot read.