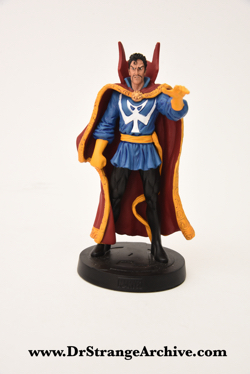 Name: Marvel Fact Files Doctor Strange Special
Artist: Umk
Date: 2016
Size: 5 3/4" x 3"
Company: Eaglemoss LTD
Description: This is the statue/figure that came with the 2016 Eaglemoss Collections Chapter 5 Doctor Strange Special. The reference used was Aaron Lopresti's Excalibur Vol 3 # 13 comic. I have used this image many times. I love it. AAY/8948 is stamped on the bottom. The magazine that came with this figure is in the Misc Collectables Database.