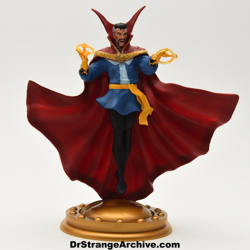 Name: Doctor Strange PVC Diorama
Artist: Unk
Date: 2016
Size: 12.5 x 13
Company: Diamond Select Toys
Description: This is a 9 inch PVC Doctor Strange diorama statue by Diamond Select Toys. Nine inches is a bit deceiving since the actually diorama has a base diameter of about 6.5 inches with an overall height of about 13 inches and a maximum width of about 12.5 inches The height of the good Doctor is 9 inches. So, you are getting a much bigger figure/statue than you might expect. The Doctor is hovering over an Eye of Agamotto base with his cape fluttering in the air. This statue is styled after the classic comic book version of Dr. Strange.